I am participating in the Get Rec'd: A Movie/TV/Book List Challenge and this is the twenty-eighth week's entry.  I have decided to be bold and list a response for all three categories; a movie, a television show, and a book.
Week 28: My Opinion Has Changed Over Time (for the better)
Movie: Becoming Jane (2007)
From IMDB: A biographical portrait of a pre-fame Jane Austen and her romance with a young Irishman.  Anne Hathaway, James McAvoy, Julie Walters
The first time I watched Becoming Jane, I watched it wrong. My expectations ranged from being non-fiction or more satirical like Shakespeare In Love. When the movie was neither, I grumbled about not liking their choices for a while. However, I couldn't get some of the scenes out of my head. I re-watched Becoming Jane with a more open mind and found an enjoyable movie. The key is to treat it like an entirely fictional movie removing any comparisons to Jane Austen and enjoy Anne Hathaway and James McAvoy's performances.
Television: Scandal (2012-)
From IMDB: A former White House Communications Director starts her own crisis management firm only to realize her clients are not the only ones with secrets.  Kerry Washington, Guillermo Díaz, Katie Lowes
I've been watching Grey's Anatomy since Season 2. When the creator, Shonda Rhimes, released another series, I gave it a try. I only made it through one episode. Scandal was too over the top for me, and I walked away. After two seasons, I tried again once Netflix released them. This time I was home sick and wanted something mindless. I enjoyed the preposterousness a whole lot more. I learned only to watch once the entire season is available and then enjoy the beautiful people doing very, very unbelievable things.
Book: Of Mice and Men (1937) by John Steinbeck

From Goodreads: The compelling story of two outsiders striving to find their place in an unforgiving world. Drifters in search of work, George and his simple-minded friend Lennie have nothing in the world except each other and a dream–a dream that one day they will have some land of their own. Eventually they find work on a ranch in California's Salinas Valley, but their hopes are doomed as Lennie, struggling against extreme cruelty, misunderstanding and feelings of jealousy, becomes a victim of his own strength. Tackling universal themes such as the friendship of a shared vision, and giving voice to America's lonely and dispossessed, Of Mice and Men has proved one of Steinbeck's most popular works, achieving success as a novel, a Broadway play and three acclaimed films.
I blame my 5th-grade teacher, Ms. Joy, for my initial hatred of John Steinbeck. She forced us to read both The Red Pony and The Pearl. I hated both. I didn't understand the symbolism, the context, or anything that you need to appreciate his writing. This lead to a complete shunning of all things Steinbeck from then on out. Unfortunately, my quest to read the BBC Must Read Book List had two of his books listed. I caved and read Of Mice and Men first and truly enjoyed it. My hatred melted a bit and completely dissolved after finishing The Grapes of Wrath. I will not go back and re-read those that started the original embargo, but I will not ignore other titles going forward. Progress!
Coming Up Next
Next week will be "Favorite Period Drama"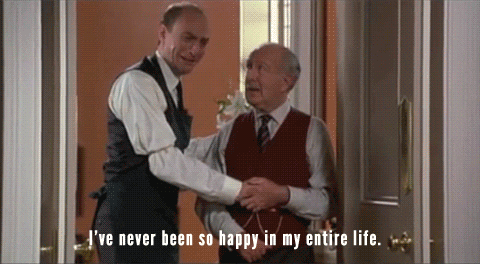 What are your picks? Let us know in the comments.