I am participating in the Get Rec'd: A Movie/TV/Book List Challenge and this is the nineth week's entry.  I have decided to be bold and list a response for all three categories; a movie, a television show, and a book.
Week 9: Favorite Musical
Movie: Little Shop of Horrors (1986)
From IMDB: A nerdy florist finds his chance for success and romance with the help of a giant man-eating plant who demands to be fed.  Rick Moranis, Ellen Greene, Vincent Gardenia With Music and Lyrics by Alan Menken
Little Shop of Horrors is one of my favorite musicals since the first time I watched it. I can't remember if I saw the original non-musical version of this before or after, but I remember liking both of them for very different reasons. The lyrics and music get a stuck in your head and the cast from top to bottom fit perfectly into this odd little movie.
Television: Galavant (2015-2016)
From IMDB: The adventures of Galavant, a dashing hero who is determined to reclaim his reputation and his "Happily Ever After" by going after the evil King Richard, who ruined it the moment he stole the love of Galavant's life, Madalena.  Joshua Sasse, Timothy Omundson, Vinnie Jones   With Music and Lyrics by Alan Menken
When you first watch an episode of Galavant, you wonder why you are watching this completely ridiculous show. The episode ends and you decide that you could sit through one more. Suddenly, you have watched a whole season without realizing and you haven't stopped humming some of the songs. The show knows what it is and doesn't try to be anything more than that. Also, if you haven't managed to fall in love with Timothy Omundson by now, this will help you realize how great he is.
Book: Will Grayson, Will Grayson (2010) by John Green

and

David Levithan

From Goodreads: Will Grayson meets Will Grayson. One cold night, in a most unlikely corner of Chicago, two strangers are about to cross paths. From that moment on, their world will collide and lives intertwine.
It's not that far from Evanston to Naperville, but Chicago suburbanites Will Grayson and Will Grayson might as well live on different planets. When fate delivers them both to the same surprising crossroads, the Will Graysons find their lives overlapping and hurtling in new and unexpected directions. With a push from friends new and old – including the massive, and massively fabulous, Tiny Cooper, offensive lineman and musical theater auteur extraordinaire – Will and Will begin building toward respective romantic turns-of-heart and the epic production of history's most awesome high school musical. Audiobook read/sang by Nick Podehl and MacLeod Andrews
I know the difficulties choosing a musical book, however, Will Grayson, Will Grayson qualifies. The songs in the book are in a different format so you know it isn't dialog. If you listen to the audiobook, they sing all the songs and do a great job. The idea of the musical in the book is hilarious as is the character of "Tiny" who is responsible.
Coming Up Next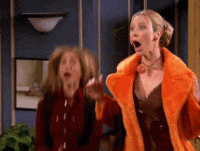 Next week will be "Guilty Pleasure"
What are your picks? Let us know in the comments.