This post and series will discuss intentional weight loss struggles and may be difficult for anyone with an eating disorder
In 2021, I began a health quest of losing weight and getting in better shape using various forms of technology.
To quote the movie One Crazy Summer: "Without a plan, there's no attack. Without an attack, no victory."
However, plans bore me, so I call them "Quests." It's more fun and completely customizable to your goals. All quests involve dangers untold and hardships unnumbered as we fight our way here to the goblin city to take back what you have stolen…wait. Sorry. That's the quest of the Labyrinth.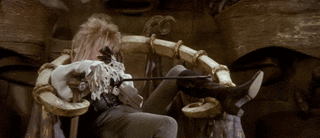 Over the next few blog posts, I will convey everything you need to know to follow me into the pit of despair…wait. Sorry. That's Princess Bride. You will find tools, companions, side quests, successes, and failures. However, I have no doubt this will end in victory aka losing weight. Well, some doubt, but we'll get to that later.
My weight crept up slowly over time until I was heavier than I had ever been.
This photo was taken at my company's Christmas Party at the end of December 2017. I knew I needed to make changes and hate the "before" pictures that make the person look extra horrible. So, I took this one in my favorite dress because it is super cute, blue, and IT HAS POCKETS!
A bit more about me to have a better sense of what you are getting into with this quest. If you are one of those people that want to skip to the end and then backtrack, you can. CLICK HERE only if you want to know ahead of time.
I'm a fourth-generation Chicagoan who currently lives in the Pacific Northwest (or "Northwet" as the case may be). I'm a Gen-X geek who loves all things pop culture with an extensive movie collection and a bachelor's in Film/Video (expect a lot of movie/TV quotes). As an avid reader, I consume about 100 books a year. I am a project coordinator at a finance firm coordinating graphic designers (this means I sit at a desk all day). I'm halfway through a master's program in photography (I've done everything but my thesis) and was a photographer for Emerald City Comicon before ReedPop took it over. I participate in #ShakespeareSunday every week on Twitter, and Patrick Stewart signed my 1903 edition of Macbeth.
Feel free to read my other blog posts or follow me on Twitter or Instagram.
Next up: My Health Quest: My Backstory