I am participating in the Get Rec'd: A Movie/TV/Book List Challenge and this is the fifteenth week's entry.  I have decided to be bold and list a response for all three categories; a movie, a television show, and a book.
Week 15: Goes Bump In The Night
Movie: Frailty (2001)
From IMDB: A man confesses to an FBI agent his family's story of how his religious fanatic father's visions led to a series of murders to destroy supposed "demons."  Bill Paxton, Matthew McConaughey, Powers Boothe
Bill Paxton's directorial debut leads us through a creepy thriller filled with great characters and solid plotlines. The studio didn't back Frailty, so it didn't get the amount of publicity it deserved. I have always found scary movies to be more frightening when there is an element of religion involved. While you can dismiss the existence of aliens, vampires, and werewolves, you can't escape people acting on behalf of belief.
Television: Tales From The Crypt (1989-1996)
From IMDB: Tales of horror based on the gruesome E.C. comic books of the 1950s. John Kassir, Roy Brocksmith, Miguel Ferrer
My favorite episode of Tales From The Crypt also happens to be the very first one. The Crypt Keeper loved puns and never seemed to fail to have one for you. While bloodier, gorier, and with more nudity, the lessons the characters learn all are similar to The Twilight Zone. No evil deed goes unpunished. As for the making of the series, HBO allowed actors to direct episodes for the first time to see if that was something they wanted to pursue.
Book: Slade House (2015) by David Mitchell

From Goodreads: Down the road from a working-class British pub, along the brick wall of a narrow alley, if the conditions are exactly right, you'll find the entrance to Slade House. A stranger will greet you by name and invite you inside. At first, you won't want to leave. Later, you'll find that you can't. Every nine years, the house's residents—an odd brother and sister—extend a unique invitation to someone who's different or lonely: a precocious teenager, a recently divorced policeman, a shy college student. But what really goes on inside Slade House? For those who find out, it's already too late. . . .
Spanning five decades, from the last days of the 1970s to the present, leaping genres, and barreling toward an astonishing conclusion, this intricately woven novel will pull you into a reality-warping new vision of the haunted house story—as only David Mitchell could imagine it.
David Mitchell writes fantastic characters. His plots, however, appear to be afterthoughts the publisher forced him to write. Regardless, Slade House provides excellent character development, a creepy backdrop, and enough intrigue to keep you guessing about what is going on. Netflix would be smart to pick this up as a mini-series. The storyline would easily break up into episodes with the viewer wanting to know what happens next.
Coming Up Next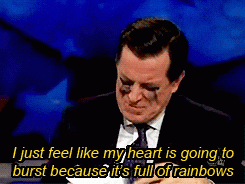 Next week will be "Made Me Cry The Hardest"
What are your picks? Let us know in the comments.